The Artwork of Travis Trium Perfectum at The Dark Parlour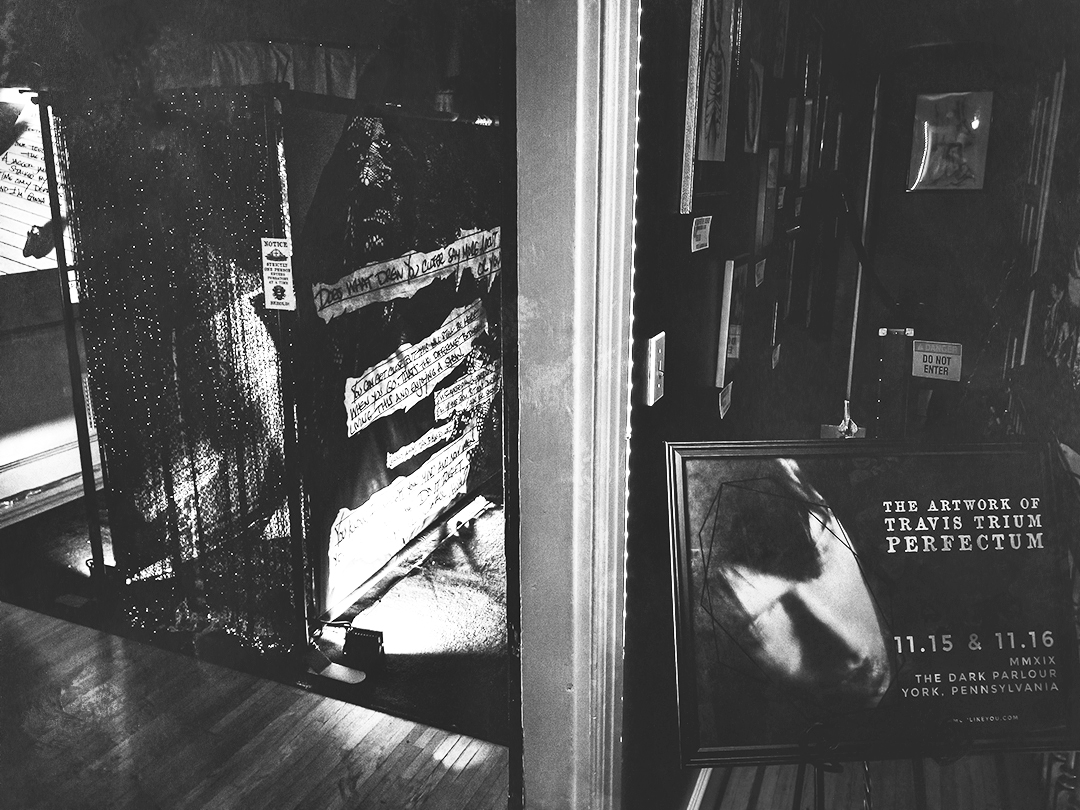 All the preparations and sleep I lost finally came to a head and was quite worth it. I debuted multiple new pieces including two new 24″ x 36″ canvases along with a walk through writing piece installation revealing the noose-bouquet and unsettling video installation inside. Beyond these new works, my more notable pieces hung surrounding the viewers reminding them of the path I took to get here. I can't thank Lauren at The Dark Parlour enough for inviting me into her lovely space and being such an amazing host. She truly allows the artists to be themselves and gave me the full creative control that I always desire. Your shop and gallery is a joy and I am already looking forward to returning. I also want to thank all those who took time out of their lives to share in this experience and celebration of my work. For those who purchased a piece (and some multiple!), I am forever grateful. Getting the chance to share my work in such a way was a beautiful and satisfying experience for me. I wanted to create something unique to what I do and leave the viewers witnessing something immersive and special and I believe I did just that.
The Artwork of Travis Trium Perfectum will be on display until November 30th during regular business hours at The Dark Parlour in York, Pennsylvania. If interested, you may purchase a remaining piece from the wall upon visit.
Couldn't make it to the event? Here's a brief video walkthrough of the exhibition.
Wish to book Travis Trium Perfectum for an Exhibition in your gallery or space? Travis is now booking dates in 2020 to bring his visual immersive art to your city. Please visit the "INVOKE" page to contact directly and include the place in which to host and the desired time frame. Thank you.
---